Details

Written by Garry
Created: 08 April 2015
It's that time again. Time for this rapidly aging cynical writer and comedian to dust off the short shorts and attempt to mount a convincing argument that I'm some kind of athlete.
The King's Cup Sepak Takraw World Championships are about to be held again in Bangkok and once again I'm lucky enough to be attending as part of team Australia. This time however we've managed to string together a large enough squad to enter the full competition, requiring a team of ten players instead of a token four.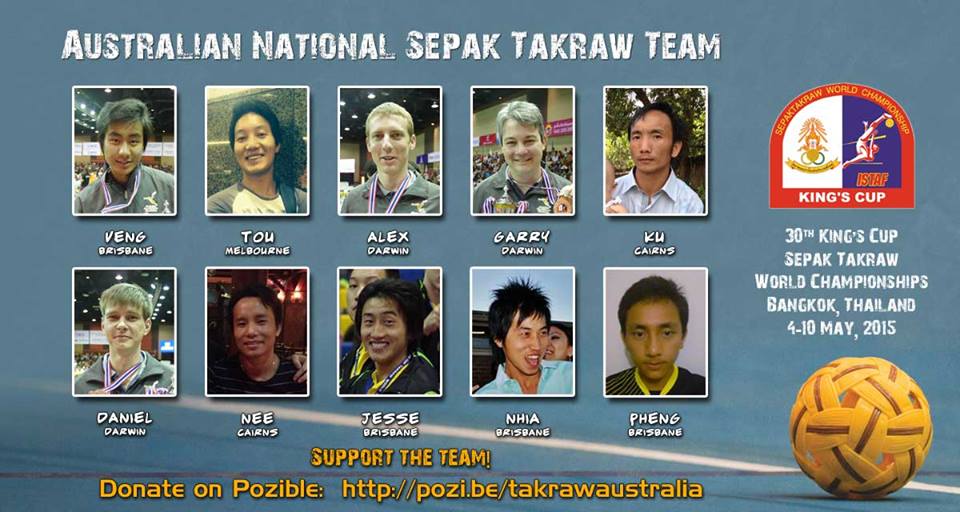 I'm really looking forward to gearing up and heading to Bangkok with a crew of guys from Logan, QLD, Carins, QLD  and Melbourne VIC. And I can totally understand what you're probably thkning and feeling right now:
If only there were a way for me to be involved in such a crazy and awesome endeavour too.
I'm glad you mentioned that. Check this out!
http://pozi.be/takrawaustralia
Now you too can be part of the action. Well sort of. You won't be on court, or probably even in the same country. But you'll definitely have a financial stake in the campaign, and that's just as awesome as turning a roll spike, right? That's what capitalism is all about. Yay!
I'm hoping to keep a running update of Australia's results on my twitter feed, or you can keep up-to-date via our website at www.takrawaustralia.com
Come on Aussie!


Garry with 2 Rs