Details

Written by Garry
Created: 11 April 2015
Local theatre in Darwin is in a strange place right now. Thanks to the self-inflicted fade into complete irrelevance of the Darwin Theatre Company, local amateur actors have been left with not a lot to go on. We pretty much have to take the only option left.
Do it yourself.
Last year I gave independent theatre a go by producing an original piece titled Sam Schumann and the Case of the Temporally Dislocated Fiancé. It was partially an exercise in self-congratulation, but mainly it came about from the realisation that the only way to create any sort of opportunity for yourself in this town is to write, direct, and produce it yourself.
I mean, sure, you can wait around for a production to come to town, but even if it does, it's a fifty-fifty chance that they'll bother with auditions, given it's so much easier to use grant money to fly people they know up from down south. And even if they do audition, you might not get in. Most people don't. Auditions suck.
No, by far your best option in terms of achieving anything of any sort of significance is to flip the entire community around you a gigantic bird and do it yourself. Nepotism only really works if the community you love isn't seemingly going out of its way to crush you to dust.
So Phil and I are taking on Tom Stoppard's Rosencrantz and Guildenstern Are Dead. Casting is just about done, and we've booked a theatre for July and have started some rudimentary rehearsals.
I watched a production of this play in Sydney a while ago with Kim, and as much as I enjoyed watching the two stars (Tim Minchin and Toby Schmitz) playing the title roles, I couldn't help but think all the way through "Phil and I would smash this." By "this," of course, I meant the play in general, not that production of it. They were awesome. And so will we be. Possibly.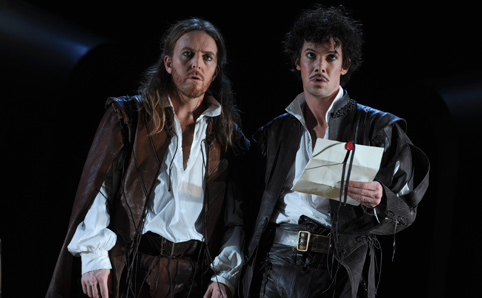 I should probably we working on lines around now instead of rambly blog posts, but I'm not, because I've been neglecting my blog too much lately, and because rambling is fun.
Did you know brontosaurus is a thing again? Awesome.
Also, The Mexicana pizza I had for dinner wasn't nearly as great as I remember it having been in the past.
HEADS!
I'm think I'm going to stop writing and go watch Mad as Hell on iView.
Make of that… Nope. Just keep walking.
Garry with 2 Rs