Details

Written by Garry
Created: 09 October 2017
The view from our front door depends on which way you look. We live in a block of units built half-way up a hill. Looking south west we have a nice view over the Indooroopilly valley down towards the river. Looking north there's just the hillside unless you climb to the top, up to Swann Road. From there you can see over to the city. It's a peaceful suburb, but not a quiet one. At most times of the day you can hear traffic from Moggill Road. There's usually plenty of birdsong coming from the trees that line Clarence Road, but they're drowned out by the traffic. About every fifteen minutes everything gets drowned out by a train. And for some reason there always seems to be a motorcycle around that needs its muffler fixed. Or possibly its rider.
The architecture along our street is changing rapidly. At one time the whole area was covered in old Queenslander style houses. Some of the remaining ones are in better repair than others. It's generally the difference between a home that is lived in by its owners and one which is rented to students. One by one, they are being demolished and replaced with blocks of units. Next door to us is a construction site ready to begin the next one.
Indooroopilly has a high student population due to its proximity to the University of Queensland. The population changes every semester. In our block of flats alone we've have several sets of neighbours come through in just the two years we've been living here. There's a "for lease" sign out the front of our block right now. I think it's actually referring to our place as we've just re-signed our lease.
A few blocks away the M5 motorway passes over Moggill Road and then over the river. Apart from that, the Indooroopilly Bridge at the end of Coonan Street, one block over from Clarence Road, is the only bridge over the river for several kilometres. Both of them take heavy traffic at peak hour and the whole suburb gridlocks if anyone does anything stupid on the road. I can only imagine what it must have been like before the Centenary Bridge was built. I suppose in 1964 Brisbane's population was much lower and the traffic less problematic.
The skyline and indeed the whole suburb are dominated by Indooroopilly Shopping Centre. In the last ten years the shopping centre has literally doubled in size. It plays havoc with the traffic flow unless you know what you're doing. If you don't know where you can and can't turn right it's easy to get stuck on Moggill Road going the wrong way. Depending on which exit you take out of the shopping centre carpark, it's sometimes necessary to drive all the way around the shopping centre to get back to Clarence Road.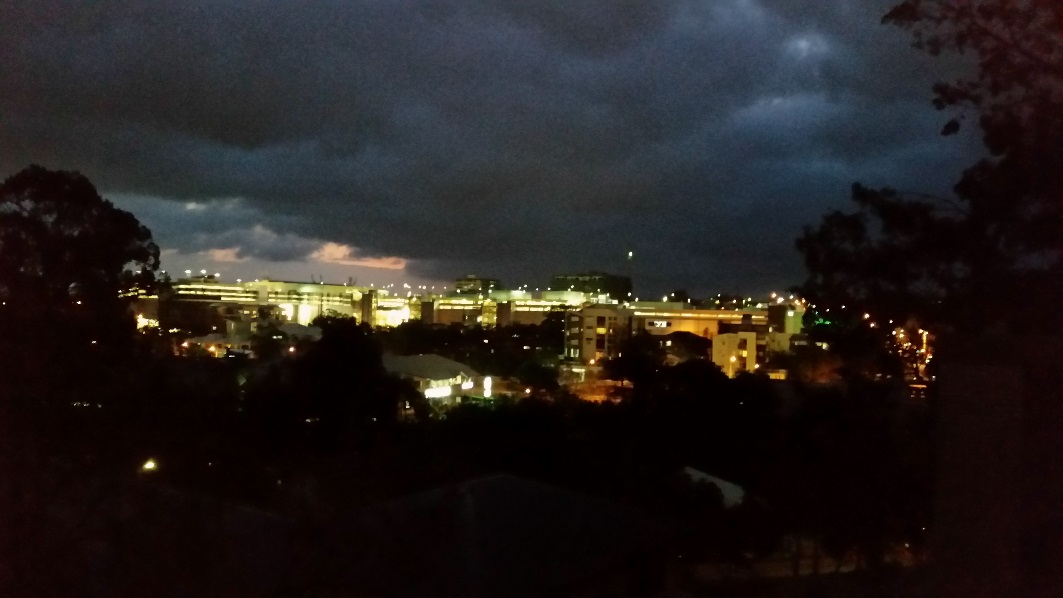 Most community services like Centrelink, Main Roads and Transport and Council offices are located one suburb over, in Toowong. Indooroopilly is purely commercial. There's a state politician's office and an AEC office, but I've never seen anyone come in or go out of them. Today I went there to get some demographic information and the whole place was shut. The major banks and a few smaller banks and credit unions have branches in the shopping centre. Apart from the main shopping centre there are doctors and dentists and other such services, as well as cafes and small restaurants dotted along Station Rd. On Coonan St there's a huge Bunnings and a McDonalds. We quite often see the red McDonalds delivery car heading out up our street. Further up there are mechanics and a twenty-four-hour gym. I've walked past the gym and seen people in there exercising at very strange times of the night.
In the park across the road from the shopping centre is a war memorial. I've never seen anyone stopping there, but it is well maintained so someone must be looking after it. There are memorials for conflicts as recent as 2004 in Afghanistan. There are quite often people playing with their children in the park.
A block the other way there are three large schools all in a row; a state school, a Catholic school and a Lutheran school. They all finish at the same time. It's not worth trying to drive a car on Clarence Road between 2:30 and 3:00 on a school day, so if I need to go shopping at this time I walk, because it's faster than trying to navigate the streets at the same time as a hundred and fifty parents picking their kids up in unreasonably large four wheel drives. Those that aren't being picked up by their parents take one of two well-trod routes; down to the train station on Station Road or over to the shopping centre to sit in the food court and do whatever it is they do.
It's hard to say whether any of the areas of Indro Shopping Centre are designed for people to "relax and relate." Certainly there are small areas of chairs for people to wait at. Most of them are situated conveniently close to large advertising billboards. There are a few play areas for children, all of which are located right next to a coffee shop for mum or dad's "convenience". At the moment it's school holidays so there's a giant obstacle course set up just outside Coles, cashing in on the recent Ninja Warrior TV show.
There are three Christian churches within walking distance of our place. At the river end of our street and around the corner is St. Andrew's Anglican Church. It runs a very traditional high Anglican service on Sunday mornings. The organist there is an old friend who has tried a few times to rope me into singing with their choir. They mainly just chant psalms.
Across the road from Indooroopilly Shopping Centre and the bus station is Indooroopilly Uniting. It's a fairly large community with morning and evening services on Sundays. They have a strong emphasis on social justice issues, demonstrated by the messages commonly displayed on the electronic signage. The sign is pointed quite deliberately straight at the exit to the shopping centre where it is plainly seen by anyone exiting the shopping centre, the bus stop or the pub.
At the other end of our suburb near the Taringa Hungry Jacks is Taringa Baptist. All I know about it from its sign out the front is that it is there and that it meets on Sundays. I'm not even exactly sure which building it is.
Our end of the suburb and certainly our end of the street tends to be populated by young people. I suspect this has something to do with the steep hill we live half-way up. My mother can't get up it comfortably when she visits from Adelaide and she's only sixty. Further down towards the river there are larger properties from older money. I'll usually pass a family or a student coming the other way when I walk from my place down to the shopping centre, unless it's between two and three o'clock, when I'll be wading through a deluge of school kids. I very rarely see anyone older than about fifty on foot. There is a senior citizens community centre in the park beside the shopping centre, but again, I've never seen anyone go into or come out of it. Today I did notice that there's a men's shed ministry set up behind the community centre. It did have some old guys making stuff and hanging out together, which was nice to see.
Once you get away from Moggill Road, it's a pretty safe place to walk and cross the road if you're young enough to handle the hills. Crossing the road anywhere near the giant Moggill Road roundabout, however, is a stupid idea. Sometimes I do it anyway.
You can't miss the public transport. There's a thumping great train line running right through the middle of the suburb. Sometimes the freight trains are loud enough to make it difficult to think. Our place is about half way between Taringa and Indooroopilly stations on a map, but we use Indro because Taringa is at the bottom of a stupidly steep hill, whereas Indro is at the bottom of merely a moderately steep hill. There's also a bus interchange at Indooroopilly Shopping Centre. Plenty of people use the train station. People catching trains to work at the shopping centre, kids catching trains to one of the schools, Indooroopilly residents taking trains in and out of the city. We're on the same line as Milton and Suncorp Stadium, so catching a train when there's a game on is… a cultural experience all of its own.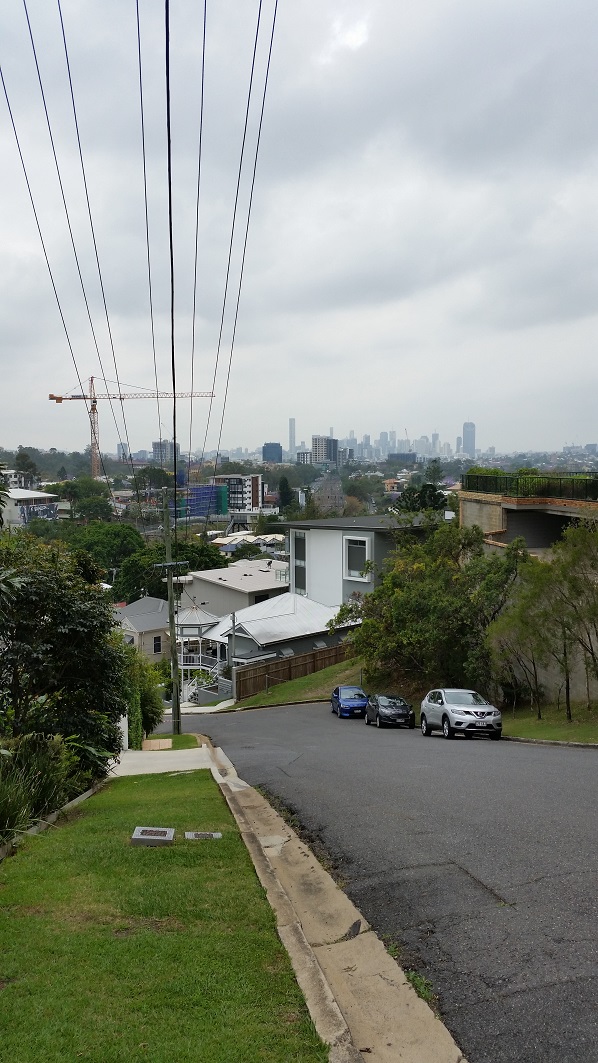 There aren't any places I don't feel safe walking alone, even at night, which is nice. But I'm a large white man; I'm safe just about anywhere. I do, however, keep clear of jewellery stores because they freak me out. Indooroopilly Shopping Centre has 16 of them. Weird.
Finding places of beauty really depends on what you're looking for. From our front veranda we get a lovely view of the sunset behind Mount Coot-tha. At the right time of year – about now actually – we get some fantastic flowers on the trees that line our streets. Purple jacarandas, red poincianas and a few different shades of frangipanis. You can get really good lamb and rosemary pastries at the Stamford Road bakery and the walking path down by the river or over the rail bridge is lovely at dusk. But everything does kind of get overshadowed by the giant monolith of unrestrained capitalism that dominates the skyline.
In summary, Indooroopilly is a nice place, if you don't mind the trains and the capitalism. If it has a drawback at all, it is that if feels like a great place to live, but doesn't feel like a place that anyone really belongs. There is very little sense of community, and what there is centres on the giant shopping centre, whose very commercial nature tends to taint everything it gets involved with. Maybe the transience isn't such a bad thing. Indooroopilly is a nice, safe place to gather while we get ready for something else. My wife and I are saving money to buy a house further out. Students are only in the area until they graduate. Young families are renting units until they can afford something larger for their children. In the meantime, we pass each other on the street, smile politely and get on with it.
It must be a difficult place to plan a ministry. Half the population will turn over every three years or so. All that can be hoped for is that people leave Indooroopilly feeling better and more enlivened than they did when they arrived.
Make of that what you will.
Garry with 2 Rs