Details

Written by Garry
Created: 12 December 2017
Including my wedding, I've been over to the States four times now. Every time I've been over, I've tried to find some new place or aspect of the country to check out. So far, if we include airports (which is probably cheating) I've set foot in twelve out of fifty states.
This year we were heading out for Thanksgiving, and as exciting as that was, I was a little disappointed to only be visiting states I'd been in before. You know, Ohio is the excitement centre of the known universe and all, but I was keen to get around and explore something new.
As it turned out, the universe itself came up with a grand scheme to make that happen.
After a day's rest in New Zealand, our travel time from Auckland to Cleveland was just on thirty hours, all of which I was awake for due to my complete inability to sleep on planes. So by the time we finally taxied into the terminal, my ability to focus on anything other than putting one foot in front of the other without falling over was minimal.
All of this mitigates rather than excuses the cataclysmic mistake of leaving my passport in the seat pocket.
Fortunately we had already cleared immigration in Houston, so I wasn't in any immediate danger of being thrown out of the country. In fact we'd made it out of the airport and all the way to the house we were staying at before I even realised there was a problem.
Now… I could write a very long and very bitter post about my experience with United Airlines in trying firstly to report the missing document at all and then asking them to retrieve it for me from the seat pocket I knew it was in. But I won't. This is a post all about the upside of the whole mishap (and it's only taken me 300 words to make it here). We now had an unscheduled trip out to the nearest Australian Consulate office, which was in Chicago.
Road Trip!
The first impression of the windy city by road wasn't really a great one. It's an industrial city, dominated by browns and greys all over the place. It didn't help that we were driving in winter, but without any snow at all. With a touch of green it would probably be much nicer in Spring or Summer.
Downtown Chicago has everything you would expect from a major American city; intense traffic, people moving in every direction in an awful hurry and the constant rattle of the public transport system. To escape it all, we took a trip up the John Hancock building. It was something like twenty dollars each to enter the viewing lounge on the top floor, but for the cost of a hot chocolate each we could sit in the restaurant on the second highest floor and enjoy exactly the same view. So that's what we did and the view was awesome.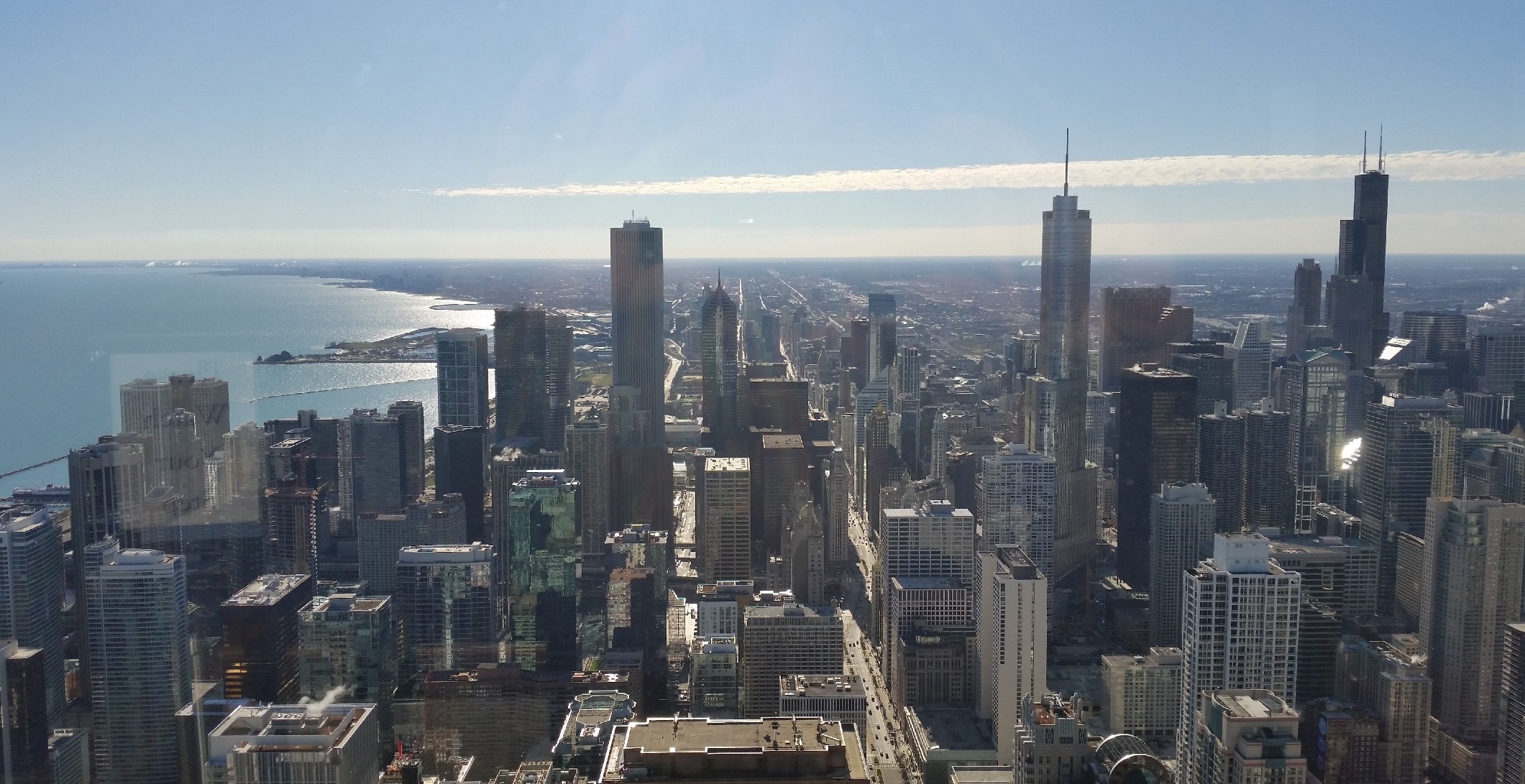 We also stopped into the Chicago Cultural Centre. They've got this giant ornate roof that's very pretty to look at. Kim was more interested in it than I was. It was the first time I'd ever seen a woman so excited about a glass ceiling. I was more interested in the free piano recital going on underneath it.
All too soon though, it was time for my appointment at the Australian Consulate office. I wasn't really sure what to expect heading in to that. I was worried it was going to be like our occasional visits to the offices of the Australian Immigration Department, or whatever it's called these days. Border Security Force Security Force Border Force Force Department or something.
I couldn't have been more wrong. The Australian Consulate Office in Chicago is awesome. I hadn't realised how profound the background the of Culture Shock was walking around the United Sates. I've been there four times now, and many things are familiar. Many things are exactly the same as they are in Australia. To be honest, I hadn't even been aware of culture shock this time around until I stepped into the Consulate office and it was like taking a big breath out after holding my breath for a week. The accents were familiar. The TV on the wall was showing Australian news broadcasts with stories from reporters I recognised about politicians I recognised. The eye roll and general annoyance at the uselessness of United Airlines was just what I needed.
I had my emergency passport issued within twenty four hours and we were on our way back to Ohio. Just as well too, because our international adventures were only just beginning…